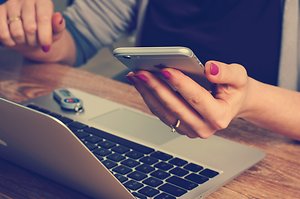 Online & Telephone Counselling
"Everything becomes a little different as soon as it is spoken out loud"
Hermann HesseContact me for a free consultation
The pandemic is very challenging: not only you need to cope with uncertainty, change, illness and difficulty, but it is also tricky to go to see your therapist.
Having counselling online or on the phone is a very effective alternative. At present this is how I work.
I have been working online with couples and individuals.
We are relational beings and in order to understand, change, grow, overcome difficulties and to make sense of our life we need to talk and reason with others. The restrictions and concerns due to the pandemic may cause isolation or feeling overwhelmed by the presence of the people we see all the time.
Online/telephone therapy not only helps you with your issues, but also it supports you in keeping feeling connected and in better relationdhip with others. It helps you to develop a new perspective about the present situation and to adapt to change and uncertainty.
"Shared joy is a double joy; shared sorrow is half a sorrow."
— Swedish Proverb